for sale for sale fore sale 3gites 3gites 3gites house house house tarn Tarn selling selling pool pool pool france france France french french for sale forsale property property
3 Quality Gites With Swimming Pool For Sale
Contact by email: houseinfolabaysse@orange.fr
FOR SALE - Your THREE Holiday Houses (Gites )- Income-generating, Well-designed, Modern Gites with Large Heated Swimming Pool - Self-Catering - Sleeping a maximum of 12/14 persons. St Felix, Lauragais, *Pechaudier - *Air Conditioned.
The Gites were Created and Renovated 8 years ago from the Old Stables and Farmhouse. These Lovely Houses enjoy a Sunny South west Facing position with absorbing views of The Black Mountains & our Five majestic Plane Trees in one direction and the Colourful garden, Superb Swimming Pool Area & Fields in the other.
Summary All The Houses are Fully Quality Furnished & Equipped with Ample Cutlery,China, Kitchen Utensils & a Complete Double Change of Bedding, Towels, plus additional Spares? All included in the Sale. Very easily maintained.Overall Maintenance & running of The Gites - Houses are Comfortably Operated by 2 Persons & the Cat!!
All the Houses are "Fully Insulated" for Sound, Coolness in Summer and Warmth in Winter. Electric heating is fitted for out-of-season lets. All windows in hardwood are double glazed as are the entrance doors.
A High-Tech Acoustic Floor separates the ground & 1st floors for "quietness". Very Effective. Sound-proofing on Internal Walls.
The Ground Floors:
Kitchen, Dining & Lounge areas are all of an "Open Plan" design and the IKEA colourful kitchens all have a s/less steel anti-stain dble-bowl sink units and all the necessary equipment, including a Dishwasher, Gas oven/cooker, M/wave, Large Fridge-Freezer, Toaster, Coffee machine & Kettle.
Each House has its own 200 litre electric hot water supply, soft water... Smoke alarms are fitted for safety.
Ample power points throughout, inc English Socket Adapters. A C/D mp3 radio player in each. Iron/ironing boards & Hair dryers incl.
Cilla's Villa ? Adj to St Felix Containing The Games Room, A Large Laundry/Drying Area / Washing Machine. Garden Toilet, Sink Unit, W/Shop.
The Bedrooms:
Each one of the Three Houses has Two Spacious Double Bedrooms, Each enjoying their Own En-suite Facilities consisting of, A Large Shower, Vanity unit and W.C. electric wall heaters in all.
The Outdoors:
The exterior of each house is divided by Colourful Ironwork & potted shrubs, donating your "private area".
Eat "Al fresco" & experience the "Fabulous Sunsets" of outdoor living. Calm & tranquillity being a "speciality" here, with only the numerous birds "The Wood Peckers" breaking the silence. (Not forgetting the chattering jays) There is a very large communual B B Q area for everyone to use and get together.
Ample private parking - Entry/Exit to property via coded electric gate/video phone.
SUITABLE.. For Families, Couples, Family-groups, Special Occasions, & those of a mature nature who enjoy the "Good Things of Life" !!!
House Lauragais: "On Ground Level" ...sleeps 4 persons.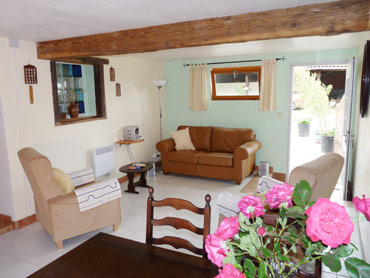 Outside view of the houses - Lauragais's Open Plan Lounge - Dining Area.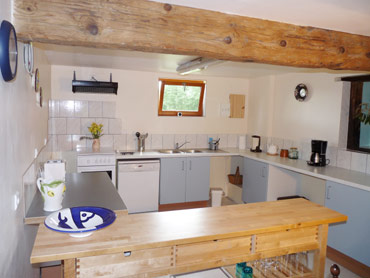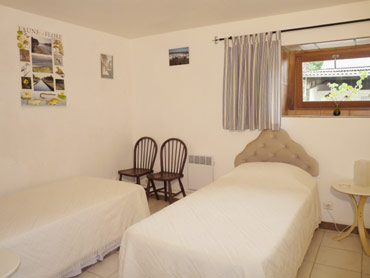 Spacious Fitted Kitchen - 1 Double Bedroom and 1 Twin Bedroom. 2 Shower Rooms.
House Pechaudier: sleeps 4/5 persons. Air Conditioned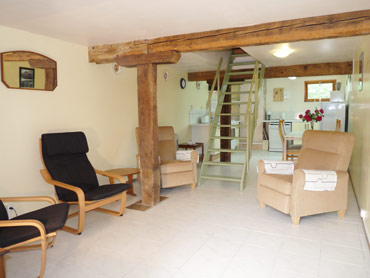 Pechaudier's -- Open Plan Lounge - Dining Area. Spacious Fitted Kitchen.
Large Double Bedroom with Single Bed SW facing - Large Double Bedroom N facing. En-suites Shower Rooms in Both Bedrooms.
House St.Felix: sleeps 4/5 persons. Open Plan Lounge - Dining Area. Spacious Fitted Kitchen.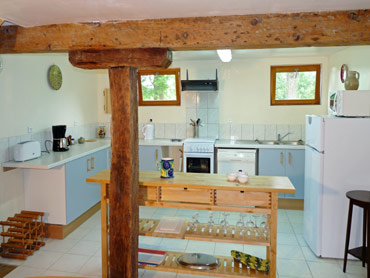 Double Bedroom with Single Bed SW facing - Double Bedroom N facing. En-suites Shower Rooms in Both Bedrooms.
Communual B B Q Area for Everyone To Enjoy ----- The Relaxing Pool Area with Plenty of Off Pool Shade
Floor Plans Of Lauragais, Pechaudier, St. Felix Houses.